Casey's life on radio ended with
The Upholsterer
on 1950-11-16 as Philip Morris let its sponsorship expire. It all seemed like very bad news on top of other bad news. The movie rights were sold, but it never went into production. The comic book failed. A stage play, written for performance by theater groups hit with a thud. There was television. It seemed like a natural. There had been five experimental broadcasts in 1945. The only radio cast member in the episodes was John Gibson.
The series may have died on radio at the end of 1950, but it premiered on television in 1951 with Richard Carlyle in the starring role, and of course, there was John Gibson in the cast, yet again. Jan Miner was playing Ann. A young reporter, Frank Lipman, was added to the regular cast of characters. Cole did not participate in any of the scripting.
A few weeks into the series, the cast was changed to have Darren McGavin in the lead, and Gibson was replaced, too, but Miner stayed. Believe it or not, Toni was one of the sponsors! The company alternated week-to-week with Longines watch company. The series survived just a year. In mid-June 1952, it was replaced by the game show,
I've Got a Secret
.
For sure,
Casey
was dead now... multiple times...
At the end of 1953, CBS issued a press release announcing that
Casey
was returning to radio as a sustaining feature, with much of its original cast. Herman Chittison was replaced by Teddy Wilson. The new announcer was Bob Hite (who sounds like a combination of Don Pardo and Fred Foy). Cole was still supplying most of the scripts.
1953-12-31 CBS Press Release
1954-01-14 CBS Press Release
1954-01-15 CBS Press Release
1954-01-07 Kokomo IN Tribune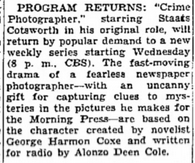 1954-01-10 Shreveport LA Times
1954-01-13 Charlotte NC Observer
Not everyone was thrilled with the idea.
Casey
was generally disliked by the critics for most of its run. These are negative comments by columnist Bob Fischer that likely reflect those of others in the newspaper trade. He believed the series lacked realism and trivialized the professional status of newspaper staffers. This did not sit well with Fischer and others. No one ever thought that
Casey
could be just plain fun and that they might want to go along for the ride.
The episodes recalled its earliest format, using the show opening that was most like
Casey, Press Photographer
, with Casey clicking his camera and saying "Got it! Look for it in the
Morning Express
!" Organ music replaced much of the orchestral arrangement, also giving it an early 1940s (and low budget but somewhat innocent) feel.
There were 62 broadcasts. Only the first two survive as circulating recordings,
Road Angel
and
Source of Information
. Cole wrote most all of the episodes, and based on what we now know about the original series, the bulk of the 62 are repeated scripts with mild adaptations to them. There are even some broadcasts in the 62 that are repeats of themselves. There are many episodes that are unidentified, and newspapers had so de-emphasized radio coverage and limited it to timetables that plot descriptions are not available. There is a good chance that because the programs were recorded on tape that the tapes were eventually re-used and that the revival broadcasts are gone for good.