Sell Out
is the first of the Philip Morris sponsored
Casey
shows. The program has a bit more action, seems to have more acted violence rather than the way it was handled on the Toni shows where it was usually referred to it in the past tense. The shows are generally more exciting than the Toni run. Plotlines become a little more complex again, in line with the A-H series. This is a shift back to its original broader target audience.
1949-07-26 CBS Press Release
They didn't let the body get cold: the date of the release is two days
before
the final Toni episode. At least when Anchor-Hocking ended, they waited until the day after the final broadcast.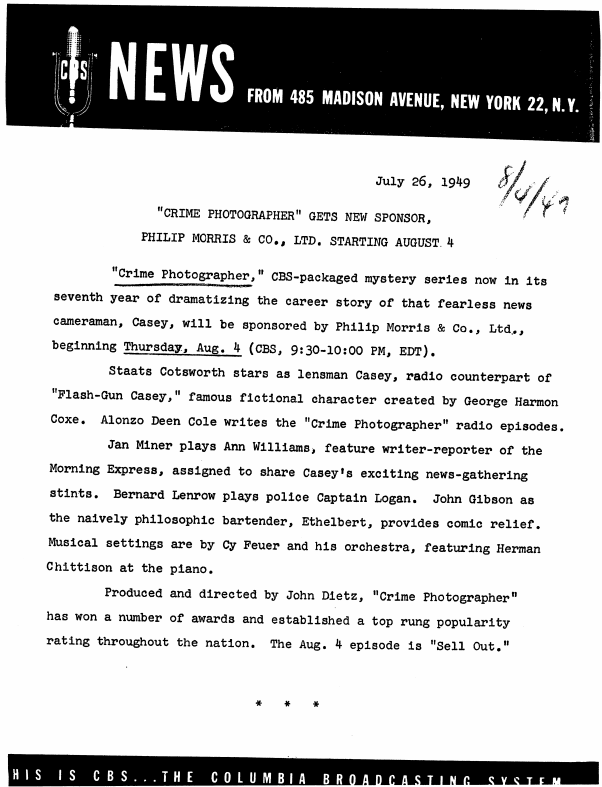 The 12 unique PM-sponsored episodes in circulation are mainly available as AFRS versions. We only have two episodes that are network broadcasts (excluding 3 repeat broadcasts).
The episode begins with the legendary "Call for Philip Morris" by "the living trademark" Johnny Roventini. Read about him at
https://en.wikipedia.org/wiki/Johnny_Roventini
New sponsor, new announcer: this time it's Ken Roberts. It's a little disconcerting as a collector to hear him because his voice is so associated with his announcing work on
The Shadow
, which is often the first series many of us listened to as newbie collectors.
New sponsor, new music: Archie Bleyer is gone, replaced by Cy Feuer, very well respected for his musical abilities. The show's music has a quite different style.
http://www.radiogoldindex.com/cgi-local/p4.cgi?ArtistName=Feuer,%20Cy&ArtistNumber=09784
Bleyer was more of a band, with emphasis on the horns dominating the sound. Feuer was smoother, still a big orchestra but more subtle and more sophisticated -- he did a lot of Broadway work. Collector and musician David Gibbs commented to me "Bleyer tended to use fanfares during the musical bridges, while Feuer tended to be more subtle attempting to convey more emotion in the openings and musical bridges. It sounds as if, perhaps, Feuer may have had a slightly larger orchestra to work with. This would not surprise me given the deep pockets that big tobacco had. Fauer's bridges tended to fit the tone and pace of the story, while Bleyer seemed to be relying on more consistent bridges regardless of the story.Perhaps Feuer was previewing his own move into theatrical programming in his approach. Bleyer tended to be more 'in your face' and this could be seen in his work with [Arthur] Godfrey and his own 'solo' career with songs such as Hernando's Hideaway."
Philip Morris' marketing differentiation focused on "cigarette hangover." It worked well for them, increasing sales. At the end of this post are more details including two comic strips about the concept that appeared in newspapers.
ADC continuity notes... (typos included)
Them State-O-Mainers say "bawth" for bath - and it's a good thing for Casey that they do or there's no telling what might have happened to our Crime photographer in this script. Talbot, the Morning Express' new assistant manager is listening to Casey try to sell him on the idea of paying $15,000 for an exclusive story - a documented expose of civic corruption. Casey goes on to explain that a man in the confidence of one Harry Fitzroy, a gang leader, will supply him with evidence that a number of important city officials receive a regular pay-off from Fitzroy - and for this information the "confidence man" wants $15,000. At first Talbot can't be sold on the idea but finally Casey convinces hill that it's worth following up - and Talbot turns over $15,000 in cash to Casey. Casey and Ann set out to meet said confidence man and they meet up with all kinds of trouble. Casey gets slugged - their confidence man is found dead - and the 15 grand disappears. A local neighbor identifies Casey as the man who came to his door and who was seen lurking near the scene of the crime shortly before the murder. Casey swears he just arrived and he's never seen the neighbor before this. For awhile it looks as if Casey is pretty much involved in what is going on - but the old neighbor's faint recollection of the manner of speech used by the man who came to his door throws light on the real suspect and absolves Casey of any wrong-doing.
$15,000 is $180,000 -- it's an outrageous amount. Cole continues the policy of pecuniary puffery to make listeners gasp and pay attention. That $15,000 is 4.5x average US household income for 1950.
Is this an episode where Casey is based in Boston? It's a reasonable trip to Portland, Maine along Route 1 (Interstate 95 did not exist yet).
Bath, Maine is a city along the coast.
https://en.wikipedia.org/wiki/Bath,_Maine
Cole put in his notes that it sounds like "Bawth" but my experience has been that it sounds more like "Bahth"
1:33
Ethelbert calls Walter for coffee for Ann (no response). The coffee does eventually get delivered, but all we hear is the cup and saucer being placed on the counter.
2:26
Cole lays the groundwork for the solution: a new Morning Express employee, Talbot, the assistant editor. He has Maine accent, which is important to the story, and also the stereotypical prudent skepticism of spending money.
3:04
Burke has lines again! He pleads the case for the money. Casey won't reveal his source, but Talbot demands full disclosure. We later learn it's because Talbot is a devious person and he wants to know who the informer is. It turns out to be "Squint Hummel." Casey then gives specific details of when, where, and how he will be meeting Hummel at at McBurney's Point. At this moment in the story, Casey has given enough Talbot enough information that he has essentially written Squint Hummel's death warrant -- but he does not realize that until much later.
Inside joke played by Cole: McBurney's Point is part of human anatomy!
https://en.wikipedia.org/wiki/McBurney%27s_point
7:35
Both Casey and Ann are knocked out! The slowly return to consciousness. The money was stolen, and they think Squint double-crossed them.
8:30
They look in the car: Squint Hummel has been shot, in the head and two in the chest! Casey realizes that he's been framed as part of the shooting.
10:15
They realize that a neighbor (Mosley) to the property is walking near them... Casey mis-recognized, a result of the plan to frame him. Someone wearing clothes like Casey had gone to the neighbor before, but he never saw Casey's face. Key item: the person the neighbor spoke to sounded like a native Mainer (a "Bahth" man), but Casey doesn't. This does not really click on Casey until later when he starts to figure out everything that happened.
12:48
The officer who had started to interrogate Casey and Ann is shot by some badly rendered gun shot sound effects! The neighbor runs away... and they're asked to turn over the envelope they were getting from Squint. Casey gets knocked out again! The gangsters talk about getting a tip about what Casey and Ann were doing, and she told them they were double-crossed, too.
16:58
Casey regains consciousness and gets them to stop the car and knocks out the two thugs. Casey takes their car and leaves with Ann... he's figured out the crime and describes how they were framing him.
18:50
Ann says "we can't stay on the lam for very long." Casey says "you, at least, aren't the type," admitting Ann's ingrained honesty and goodness, much different than his own, much rougher personality.
20:00
Casey calls Logan and asks that Mosley be released from custody as a witness. Logan grudgingly agrees. Mosley says he could have sworn that Casey was a "Bahth" man, the second time he has said it, and now Casey fully understands the story.
21:45
Casey realizes what's happened... and it's all because of the Maine accent!
22:36
Talbot walks into Mosley's home. We realized that Mosley called Talbot, at the urging of Casey, and told him to come because he had information about Hummel's murder. Talbot pulls his gun on Mosley because he knows that he can be blackmailed with what Mosley knows. Logan jumps into the scene quickly and shoots Talbot in his gun hand.
In the Blue Note epilogue, we learn that Talbot had big plans to blackmail gang leader Fitzroy and others for more money than the $15,000 from his own newspaper. And, he would have let the gangsters kill Casey and Ann to cover up the entire scheme.
Bernard Lenrow remains excluded from the closing credits. He was still working on
Molle Mystery Theater
as "Geoffrey Barnes." If you want to see Lenrow, he appears in this episode of TV's
Tales of Tomorrow
as a lawyer, about 15 seconds into the video
https://youtu.be/KuColILe3zM
We don't know if Cole picked the name Hummel because of the popular-at-the-time German porcelain figurines that soldiers brought back from their service time in post-war Germany. Writers grabbed names from streets, products, neighbors, and other inspirations, even obscure names from anatomy as we learned in this episode, while they were writing. Cole was always good at silly nicknames. "Squint" usually meant someone who wore glasses. In the popular TV series
Bones
, it referred to lab technicians who were always looking into microscopes.
CBS had an internal mix-up as to when certain scripts would be used for the first two weeks of the Morris sponsorship, as can be seen from these press releases.
CBS Press Release, likely issued 1949-08-01 or shortly thereafter
Confusion in the office:
Death of a Stranger
was announced at some as the first episode, with
Sell Out
being presented the week after.
1949-08-08 CBS Press Release
Now they got it right.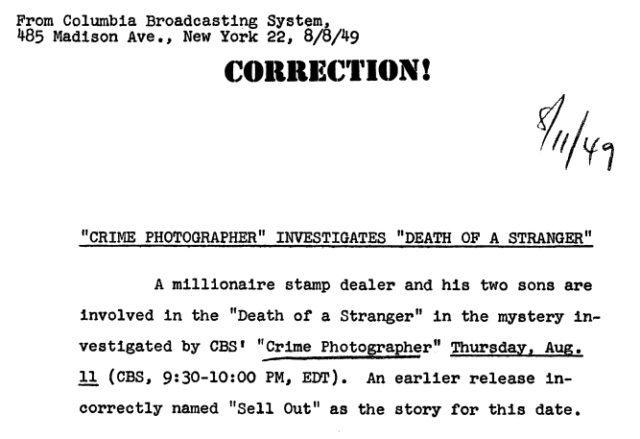 Casey 49-08-04 300 Sell-Out (Philip Morris sponsor) UPGRADE.mp3
Degoo
https://app.degoo.com/share/wcEAcQKGQFlg8j
hubiC
http://ovh.to/D4sHFa
1949-07-31 Port Huron MI Times Herald



1949-08-04 Cincinnati OH Enquirer



1949-08-04 Hagerstown MD Herald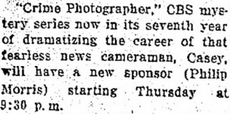 1949-08-04 Minneapolis MN Star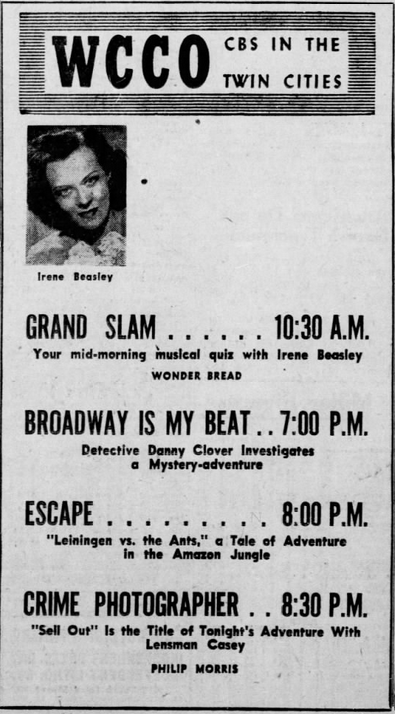 1949-08-04 Rochester NY Democrat & Chronicle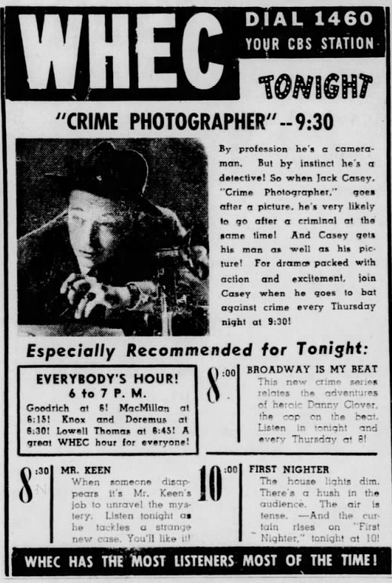 1949-08-07 Sioux City IA Journal



1949-08-11 Miami FL News




* * * * * * * * * * * * * * * * * * * * * * * * * * * * * *
These are news items and ads related to Philip Morris and their sponsorship decision.
1949-02-10 Jefferson City MO Daily Capital News
The new marketing strategy is working
Billboard 1949-06-25
The news broke in
Billboard
that PM would be leaving the William Spier version of
Philip Morris Playhouse
.
Casey
was a highly rated program, probably better than
PMP
, and a lot less expensive to produce.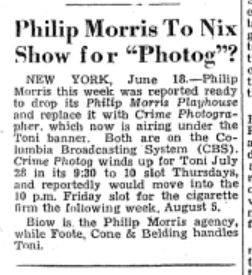 1949-07-03 Lincoln NB Star
1949-07-29 Indianapolis IN News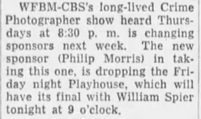 1949-07-30 Davenport IA Daily Times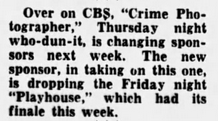 These are examples of their marketing campaign outside of radio. Remember, there's really no television advertising possibility. These panels would have become TV ads at a later time, but using the comic format lets them tell an extended story in a unique way. When ad agencies plan their TV commercials, they make storyboards that look almost like comic strips/