The Wolverine
is a Toni episode that is more like the style of the A-H series. Many of the Toni episodes had a second plotline that dealt with relationships, but this episode is flirt-free. It's a better than average episode with a comparatively simple storyline. It is an entertaining comic-book detective style plot with some amusing overacted thugs and upper class characterizations of a competitive reporter and a college professor that clearly place Casey and Ann as ordinary people. Cole's casting of suspicion on the reporter, Foster, is much too obvious and by now we know how typical this is of the Cole's strategy, but making him the hero is chuckle-worthy in the end.
This is another episode where Cole uses the theme of a psychologist studying criminal behavior by rubbing shoulders with them, like the popular 1938 movie
The Amazing Dr. Clitterhouse
. Cole also used it in 1947-08-07
Death In Lovers Lane
.
ADC continuity notes...
Casey attempts to solve a case concerning a triple killing in this script titled "The Wolverine". An anonymous phone call tips off the cops that Bobo Gusek, a gangster, and his two bodyguards, have been slain by a hail of .45 bullets. The bodies have no money on them, but beside them lies a crude sketch of an animal - a cross between a weasel and a bear - a wolverine.
Cole could have gotten the name "Bobo" from Bobo Newsome, a major league pitcher at the time.
4:10
This is one of the few episodes where the city desk editor, Burke, has a speaking role.
9:05
Competitive reporter Foster says he will make pencil sketches from the photos he took. Is he the Wolverine? Cole plays up the class difference between newspaper readership. In New York, it was the
NY Times
compared to the
Daily News
, in Boston it was the
Globe
compared to the
Herald
. The
NY Daily News
may have been what Cole had in mind as the model for Casey's employer
The Morning Express
as it was promoted as "New York's Picture Newspaper," using more photos than its rivals.
One of the newspaper clippings identifies Jesse White appearing in the episode. He appears at about 12:00 as "Manny," one of the members of gangster Joe Schuster. He is not credited in the program; it is likely that White's agent or family reported his appearance to the newspaper as a "home town kid does good" story. White was a well-known bit player for decades but became well- and affectionately known for being the lonely Maytag repairman in commercials that highlighted the product's reliability.
https://en.wikipedia.org/wiki/Jesse_White_(actor)

15:25
The mid-show Toni commercial is used to update listeners who may have lost track of the story or tuned in late.
Dr. Avon, the professor who is studying the criminals, is another way Cole plays out class differences. College professors were "mysterious" to most of the public in that only a small percentage of the population went to college, even for just a few courses. Psychology was also a strange and mysterious topic that radio writers could always weave into their stories to capture listener interest. There was a sense that psychologists knew things others didn't and had insights into people that could be used to manipulate them.
22:32
Cotsworth has some odd pauses here. Not sure what was going on, perhaps he had to swallow to clear his throat or something, or if it was supposed to be a pause to indicate he was thinking.
24:48
Dr. Avon is the Wolverine. He walks into Casey and Ann's discussion about his "invisible ink" notes written between the lines of his diary. This is still a popular kid's home science project that uses lemon juice.
http://www.sciencekids.co.nz/experiments/invisibleink.html
24:51
"Yeah, we see the .45 in your hand, Doc" is the way Cole tells us there's a gun in the scene.
Foster saves the day by hitting Avon in the head with his... camera! Really? Cameras were pretty bulky in those days, and it could be done. The cameras that news photographers used were heavy and durable. Studio photographers did not place the same kind of demands for portability and rugged handling on their equipment.
Casey 49-05-05 287 The Wolverine.mp3
Degoo
https://app.degoo.com/share/Hx4zO9Qst07z5Y
hubiC
http://ovh.to/wSogQaA
1949-05-01 Sioux City IA Journal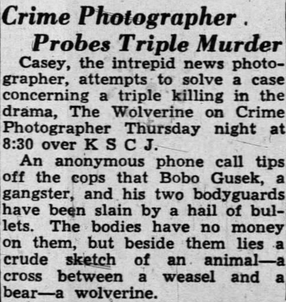 1949-05-05 Akron OH Beacon Journal



1949-05-05 Tampa FL Times



* * * * * * * * * * * * * * * * * * * * * * * * * * * * * * * * * * * * * * * *
At
27:50
the availability of the first issue of the
Casey
comic book is announced. It was not successful, lasting just four issues.