Lady Killer
is a weaker entry in the series. But even weak
Casey
can be better than many other series.
ADC continuity...
Madeleine Chalmers is rich, bored, and divorced. When handsome Cecil Gramatan strikes up a conversation with her at the bar of a resort hotel, she is definitely intrigued. So Cecil buys her a couple of drinks, takes her driving and - strangles her to death. Casey and Ann are sent to cover the case. They discover that from the description given by the hotel people, Gramatan is known by other names to the police as a killer with a long record of murdering rich women, then looting their apartments. The scene shifts to another resort, where Clara Simmons is Gramatan's (under an assumed name) next intended victim. The hotel manager recognizes him and calls the police. However, by the time Casey arrives with Logan, Gramatan has disappeared. With Clara's help Casey sets the trap which, after an exciting sequence of events, springs the answers to a lot of puzzling questions and solves the mystery of "Lady Killer."
The crime takes place in Colorado - Casey and Ann are sent a long way for a local paper to cover the story. It's to be in competition with the other papers. We don't technically know what city
Casey
occurs in, but it's unlikely that a paper would send them there since Casey's real skill is his leveraging of local knowledge. Sending a reporter makes more sense, but even that is unlikely.
8:16
Walter asked to stack more paper napkins under the bar; we hear as Walter affirms the request
10:55
Gibson flubs a line. Ann says goodbye and Ethelbert says "So long, Walter... er... so long, Casey" when the line was probably "So long, Casey, so long, Ann." The next line is about Walter still needing to bring up napkins, so Gibson probably had that on his mind.
24:32
After the arrest, Casey comments to Ann that Simmons was crying. He wonders what such a heel like "the lady killer" had in terms of attracting women. Ann says "If he wasn't on his way to jail, I think I'd try to find out. "Casey's "huh?" gets a light reaction from the audience. Ann continues "We gals crave romance, and if don't get it from overwhelming personalities like yours, well, there are a lot of 'Elmers'." Casey says he thinks there will be nice moonlight that evening, and Ann thinks he's talking about going out with her. Instead he suggests that Miss Simmons might be lonely and he should ask her out. Ann kicks Casey in the shin. Like the episode where Casey was shot, Cole is writing this, and Cotsworth acting it, as Ann has feelings for him but Casey is oblivious to it.
27:22
Ann keeps up her bitterness over Casey's interest in Simmons. Casey finally asks her, in a romantic tone, if she wants to go for a ride. Ann seems interested and asks where. Casey says Miss Simmons may still be lonely, so Ann kicks him in the other shin. Cole changes the dynamic between them later in the series.
Elmer Bristow is the "lady killer's" real name. He uses the name Evans Pentacost for his post-Gramatan work.
Gramatan Avenue is a main street in Mount Vernon, NY, the town where Alonzo Deen Cole lived before moving to Connecticut. As newlyweds in the 1970s and early 1980s, we shopped and went to the dollar movies there as it was a 15 minute walk from our apartment.
Casey 47-07-10 193 The Lady Killer UPGRADE.mp3
Degoo
https://cloud.degoo.com/e/drive-nzis9oz3ooal
hubiC
http://ovh.to/np2bnea
1947-07-03 CBS Press Release
1947-07-10 Asheville NC Citizen-Times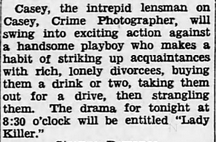 1947-07-10 Des Moines IA Register

1947-07-10 Mason City IA Globe-Gazette
1947-07-10 South Bend IN Tribune
This script concept was used again with revisions to about 10-20% of the script in 1950-11-02 as
The Deadly Wolf
, but character names were changed. Madeleine became Clarissa Mellish; Cecil Gramatan became Oswald Vinton; Clara Simmons was changed to Jane Kitchener.