Mysterious Lodger
is one of the weaker entries in the series. It's a locked room mystery that doesn't really work, at least not for me. The script is used again three and a half years later as episode 1950-11-09
Woman of Mystery
. The story was just as unsatisfying the second time around.
ADC Notes
This time the corpus delecti is an attractive young woman who has been stabbed in the back by an obviously powerful man. The police find out that she has been a convicted murderess herself, that she had stabbed her lover and spent several years in prison for her crime. Her landlady says that the brother of the man she murdered has been seen hanging around her lately... and when the cops go to bring her in, she shoots it out with them - and he's killed in the process. It looks like an open and shut case... the brother obviously was the killer... . But then Casey arrives on the scene. He corroborates the story that the police have learned from the young woman's landlady. And, for some reason, he doesn't beieve it's quite as much of a shut case as the police believe. Casey develops a theory that the police hadn't even thought of - he unreels some of the peculiar quirks in human nature which ultimately portray the real murderer -- the landlady.....
In the opening tease for Anchor-Hocking, we learn that Ethelbert has a sister other than Edna. This other sister is married with an infant boy, and Ethelbert will be happy when he learns to say "Uncle Ethelbert."
7:00
The window construction that Casey describes may have been common then, but has not been for decades. It plays an important role in the story. It would not be possible today.
The idea that a medieval weapon could work well enough to commit the murder does not seem plausible.
One of the lines said to Casey is "Here to take a picture with your Brownie, young man?" The Kodak Brownie was one of the first and most successful consumer cameras.
Bernard Lenrow as Logan is not mentioned as part of the cast. This is one of the few times, however, a supporting player is mentioned in the credits. This time it's Eva Condon who played Maggie Myers. She was a theater veteran whose career started in the early 1900s (maybe earlier!) and was 66 at the time of the broadcast. When the script was used again as
Woman of Mystery
, she played the role again, at age 69. Playbill lists her first Broadway role as 1912 in C.O.D.
http://www.playbill.com/personrolespage/person-role-page?person=00000150-ac82-d16d-a550-ecbe85080002
Casey 47-03-06 175 The Mysterious Lodger.mp3
Degoo
https://cloud.degoo.com/e/drive-mmzeuun_xf_r
hubiC
http://ovh.to/efpuMUs
1947-03-06 Mason City IA Globe-Gazette

1956-10-06 Brooklyn NY Tablet
Eva Condon passed away in 1956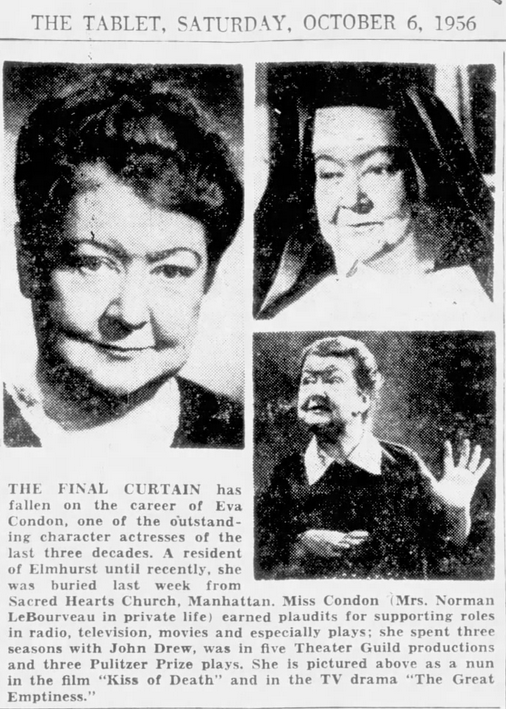 * * * * * * * * * * * * * * * * * * * * *
Lesley Woods, my favorite Ann Williams, was one of radio's busiest performers. But she's leaving the cast, and not returning.
1947-03-16 Akron OH Beacon Journal
Her final appearance will be in
Demon Miner
. This is the CBS release about her departure. Sounds like everyone was happy for her.
1947-03-28 CBS Press Release
* * * * * * * * * * * * * * * * * * * * *
1947-03-18 Altoona PA Tribune
The editor of this paper really can't figure out what
Casey
is, and it appeared this way in their timetables from 1946 to 1948.