This is the first
Casey
episode in circulation written by Alonzo Deen Cole. Siegel & Cox identify 384 of the 431 episodes as Cole scripts. Cole came to some prominence as the driving force behind
The Witch's Tale
. According to Cole, he was hired about five weeks into the
Casey
series to salvage it (my words) and get it on course (detailed on p 79 of the Siegel-Cox book).
This is a good entry into the series with its comic book style and the storyline has enough plausibility in a comic book world to work. For decades, this episode was not an enjoyable listen because all that was in circulation was a muffled
AFRS Mystery Playhouse
copy. Various collectors tried to reprocess it and all they could do was make it less bad, sometimes adding new defects. A network copy emerged five years ago in very nice sound.
The plotline from ADC's notes:
Irene, who is separated from her husband, Kurt, a sculptor, receives a phone call from him and it's from her cousin's hotel room. When she doesn't return, the cousin, Ruth, asks Casey and Ann to investigate. They call on Kurt at his studio and see there a life-sized statue of a woman posed by Irene. He has titled this "Reunion." Casey believes Irene's body is hidden somewhere in the statue and by playing on Kurt's superstitious nature, he forces a confession. The body is found in the base of the statue.
The concept of a "mad sculptor" as a murderer was in the news a few years before. It was the Robert Irwin case
https://en.wikipedia.org/wiki/Robert_George_Irwin
Cole would not usually base stories to replicate a news event, but an episode's "gimmick" would come from one or two aspects of a larger news story that might be familiar to listeners.
The story plays on the superstitious beliefs of one of the main characters, in this case, Kurt, the murderer. This was one of Cole's most frequent story elements, and then there's a turn in the story that makes you wonder if it could be true. In this case, it was the hair of his victim on his body. This pattern was something he developed when he was working on
Witch's Tale
. It was a frequently used device used in comic books, short stories, movies, and one of the more entertaining uses of it is in the play and movie
Harvey
. Cole was not the most creative writer, but he knew how to entertain an audience with basic tools.
Things we learn:
Lesley Woods is now cast as Ann
Bernard Lenrow is Logan
The opening and closing of the network copy were used in the mid-1950s revival series; we know this is the early one because it says "Columbia" but more than a decade later it would become "CBS Radio." That revival series also used Bob Hite as announcer. I always though Hite and Don Pardo had very similar voices. If you have a copy of 1954-01-20
Source of Information
, you can hear how close the revival opening is to this pre-Anchor-Hocking program.
Casey 46-06-03 137 The Reunion (AFRS Mystery Playhouse) (1st circulating show by ADCole).mp3
Degoo
https://cloud.degoo.com/e/drive-kf9imqrp33at
hubic
http://ovh.to/rbLUSZ1
Casey 46-06-03 137 The Reunion NETWORK (1st circulating show by ADCole) UPGRADE.mp3
Degoo
https://cloud.degoo.com/e/drive-gsrdswrfireg
hubic
http://ovh.to/8ZPuh8y
A lot of time passed between
Clue in the Clouds
and
The Reunion
. Here are some clips that may be of interest.
1944-07-09 LINCOLN (NEB) STAR
1944-11-10 BURLINGTON (NC) DAILY TIMES-NEWS
1944-11-14 DECATUR (IL) DAILY REVIEW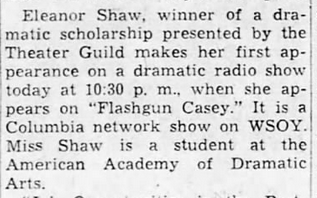 From another newspaper report, Shaw was 21 at the time this happened. There is an Eleanor Shaw in IMDb, but the birth date does not match up. She is mentioned in a profile of another actress in a 1947
Atlanta Constitution
article about how hard it is to break into show business, and that she had some dancing parts in movies. It seems like it was obscurity after that...
1945-03-11 Pittsburgh PA Press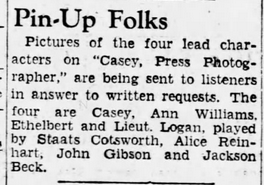 1945-07-11 DECATUR (IL) DAILY REVIEW
1945-07-25 DECATUR (IL) DAILY REVIEW
Betty Furness takes over the Ann Williams role, but that didn't last long.

I remember Furness in her later career as a consumer reporter and local talk radio host when I lived in the NYC area. She had an interesting life and career
https://en.wikipedia.org/wiki/Betty_Furness
1945-08-26 NY Daily News
The best actress ever to play Ann Williams takes the role

* * * * * * * * * * * * * * * * * * * * * * * * *1945-09-20 Brooklyn NY Daily Eagle
Casey
was always considered a prime prospect for television. In the early years of experimental TV, very few people actually got to see the productions. This was an adaptation of a Holden script from the radio program of 1944-10-31.

This is the plotline from ADC's continuity notes:
In order to disprove a statement in the Express that he is a fake Metho, a spiritualist, holds a seance for the press at which his daughter, Eunice, says that she feels Ann wishes to kill her. Ann bribes her way into her room to question her, and later Eunice is found dead. Ann is accused because of the seance and because her compact is found in the room. Casey discovers through Eunice's diary that she is really Metho's wife, not his daughter, and he arranged to meet with him. Casey puts on a mind-reading act with the strangler of Eunice, and with Logan's help captures the real murderer.
Billboard 1945-09-29

The show did not get the best review. The director, Frances Buss, is considered a television pioneer. She directed the TV version of
Sorry, Wrong Number
with Mildred Natwick in January 1946.
https://interviews.televisionacademy.com/interviews/frances-buss-buch
Oliver Thorndike, who played Casey, died in 1954 at the age of 38. The Yale Drama school gives an annual student award in his memory. He appeared in many early TV programs.
http://www.imdb.com/name/nm0861342/
Ruth Ford, who played Ann Williams, was a member of Orson Welles'
Mercury Theater
, would go onto Hollywood.
https://en.wikipedia.org/wiki/Ruth_Ford_(actress)
There is only one recording of her listed in RGI on
Mercury Theater
, but decades later she does appear in one broadcast of
CBSRMT
!
John Gibson seems to have appeared everywhere the
Casey
franchise went. They probably figured out that no one else could play Ethelbert.
Among the other actors mentioned in the cast, here are links to their pages at the Internet Movie Data Base:
• Marilyn Erskine
http://www.imdb.com/name/nm0259856/
• Gregory Morton
http://www.imdb.com/name/nm0607986/
• Bernard Hoffman
http://www.imdb.com/name/nm0388822/
Casey may have been snakebit as far as television was concerned right from the beginning. The reviewer disliked the interplay between Casey and Anne (spelled with an "e" here) which was essential to the radio program but seems to not have worked here, and also complained about the "climax which fell flatter than a bride's pancake."
Important technology note: none of these early broadcasts were recorded. Kinescope technology did not come to market from Kodak until 1947.
https://en.wikipedia.org/wiki/Kinescope