At the opening of
The Chivalrous Gunman
broadcast, Casey asks if Tony had meetings at the United Nations. The UN was in its early formation, and meetings were in progress at Lake Success, NY, a village on Long Island. Lake Success was the temporary home of the UN from 1946-1951, and is an easy train ride from Manhattan's Penn Station on the Long Island Railroad. It's right next to Garden City. Is Casey's city New York or Boston? In this episode, it's New York. What will it be next time?
ADC continuity notes...
Scene opens in the office of the J.J.Titus Co., whose business is private loans. It's long after working hours. There are three men busily engaged at the door of a massive safe. Suddenly, a door opens and a girl walks in - she's the office stenographer, Miss Birch. She recognizes. two or the men as employees of the firm. The men grab the money and the girl and flee. They intend to do away with the girl but Ed (the fellow elected to do the job) suddenly has a change of character and very gallantly releases the girl. This angers the other fellows. An argument and shooting follows which results in the death of the two fellows. Ed warns the girl not to talk to to the police about what has happened - and he disappears. Logan and Casey are assigned to the case. They find the girl and try to get some info. from her as to the identity of the killer but she won t talk. They bring in several suspects but she refuses to recognize any of them. Casey has a feeling that she is more deeply involved than what appears on the surface... and that she is protecting the killer. With this in mind, Casey concocts a scheme that makes the girl break down and identify the killer and also confess her love for the gunman.
This episode has a particularly violent beginning, with a young woman being taken to be killed because she stumbles on the crime, and one of the criminals shooting his two comrades. While
Casey
episodes report violent acts, this may be one of the more violent openings. One of the killed criminals, Riker, did live long enough to report what happened.
3:07
What a mild explosion to open a safe, an office safe that is described as "massive" in the continuity notes. Shouldn't there be a noise with the door being "blown clean off"? We should hear the door fall to the floor at least.
7:10
Cole gives us a new word treat in the presence of a firearm: "You have a gat in your mitt, huh, Gus?"
13:00
A new bar patron is introduced, Mr. Ebersole. Ethelbert is talking to him about baseball, and is interrupted by Casey and Ann arriving. Casey asks who he is, but Ethelbert never explains. Ethelbert says the season will end in a big surprise. He's wrong: the Yankees and Dodgers were leading their leagues at the time of the broadcast and met in the World Series, with the Yankees winning in 7. Both teams had big leads in August 1947, and basically played just well enough to maintain them. Some of their competitors finished the season strongly, but it wasn't enough to catch up. World Series
https://www.baseball-reference.com/postseason/1947_WS.shtml
In the Blue Note discussion, Casey thinks that Miss Birch and Ed were in cahoots to create a situation where Ed could kill the other two criminals.
19:00
Once more, Logan creates a meeting where criminals and suspects can meet in hopes that someone will flinch and reveal the solution to the crime. This one is with Birch and another criminal – she does not recognize him, at least according to what we hear, but Ann and Logan dialogue indicates she clenched her fist, showing nervousness, even though it did not show in her voice. Casey watched Neil instead and that he was relieved to see Birch and that she pretended not to recognize him. Their voices were cold, but their demeanor showed something else to the keen eyes of Ann and Casey.
20:23
Casey explains about his knowledge of women by saying "I read about them in books." Cole is setting up the episode's closing light moment with this line.
When Casey and Logan set up their next scheme to trap Birch, they plan to use jealousy as the catalyst. The phrase "green-eyed monster" is used, a metaphor for jealousy.
https://www.merriam-webster.com/dictionary/green-eyed%20monster
It is from Shakespeare's Othello, Act III, Scene 3:
O, beware, my lord, of jealousy!
It is the green-eyed monster which doth mock
The meat it feeds on.
This was a time when many high-school grads would know such a line and the broader general public would be aware of such a phrase, even though only about 10% of the public had some level of college education at the time of the broadcast (today it's more than doubled for grads and partial college in the population).
Birch is held as a witness for a long time, something that would not be possible for real-life practical and legal purposes today. The plotline dictates the law, it seems. They try to make Birch jealous of Neil, whom they suspect is actually Ed, by placing her in a cell that has a sightline to the visitors room of the jail. It turns out that it works. Birch breaks down when she is told that the regular blonde visitor of Neil is his wife from Minneapolis. Birch exclaims that Neil is Ed and that he had promised to marry her!
26:50
At the Blue Note, it's explained that it wasn't Neil's wife in the prison visitors area but a policewoman pretending to be that.
27:44
Casey asks Ann how she knows so much about men. She emphatically states "
NOT
from reading books." Ethelbert chuckles and stops and then says "...huh?" as he is surprised not so much by what Ann says, but the way she says it. Ethelbert was not in the scene where Casey made his comment earlier. Casey is street-wise about crime, but Cole makes us understand that Ann is much wiser about romance than Casey is.
There is a moment in the episode where Ann makes comments about not knowing exactly why men are attracted to blonde women… yet in the Casey comic book Ann is always drawn as a blonde!
Casey 47-08-14 198 The Chivalrous Gunman UPGRADE.mp3
Degoo
https://cloud.degoo.com/e/drive-vr8zljjmojns
hubiC
http://ovh.to/B8CC33i
1947-08-14 Asheville NC Citizen-Times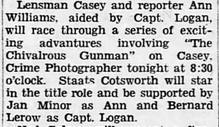 1947-08-14 Mason City IA Globe-Gazette
* * * * * * * * * * * * * * * * *
1947-08-12 Philadelphia PA Inquirer
It's summertime, and Cotsworth made a little trip back home.
* * * * * * * * * * * * * * * * *
For years, this episode was in circulation as "The Chivalress Gunman." The speling abillity of sum collecters is just plane atroshis.